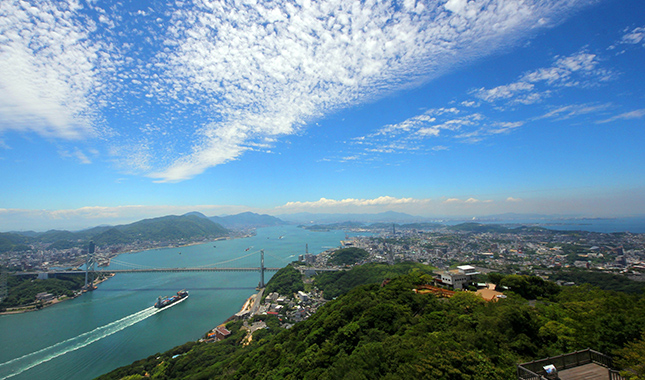 About Shimonoseki City Given its location at the end of the island of Honshu (the mainland of Japan),Shimonoseki has prospered as a gateway to Eurasia as well as a strategic stop for land and maritime transport in the area. Boasting attractive scenery along the Kanmon Straits, the city witnessed so many important events in Japanese history. As the location of a famous naval battle in the War between the Genji and Heike clans in 1185, Shimonoseki played a key role in the transition from aristocratic to warrior rule in Japan.
There are also many sights and places of historical and cultural interest in the city, such as ancient samurai residences and clay walls.
Shimonoseki is surrounded on three sides by ocean, the Seto Inland Sea, the Hibikinada Sea and the Sea of Japan, so it goes without saying that the seafood here is bar none. Be sure stop by Karato Market or any one of many restaurants to sample the seafood.
With a wealth of historical sites, ethnic atmosphere, beautiful scenery and Japanese cuisine, Shimonoseki is a city that will capture your heart.
Information

Gourmet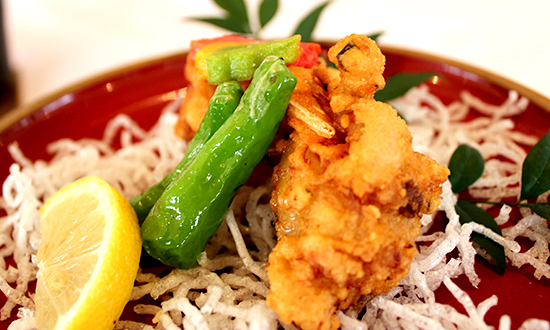 Fugu
Fugu blowfish is hands-down what Shimonoseki is best known for. The fish, toxic if prepared the wrong way, is abundant in the nearby waters, and only registered chefs with special licenses for fish cleaning can prepare fugu dishes. In fact, eating fugu was outlawed in the 16th century, but later, Shimonoseki became the first place in Japan permitted to catch and eat fugu by order of Hirobumi Ito, Japan's first prime minister and native of Yamaguchi Prefecture.
Shimonoseki ranks number one in Japan in fugu processing, with a huge percentage of the nation's share, because its Haedomari Market is said to be the only one that specializes in fugu. This means that fugu properly processed here can receive the coveted "Shimonoseki" brand designation.
Although offerings will differ from place to place, a full course will typically feature an exquisitely arranged platter of sashimi, which you are meant to dip in tangy ponzu sauce instead of soy sauce, fried fugu, a fugu hot pot, a fugu rice porridge and hirezake, hot sake with a grilled fugu fin in it.
Although fugu comes into season in the winter, in Shimonoseki, you can enjoy it year-round.
Fun fact: in the local dialect, fugu are called fuku, which happens to be the same word for luck!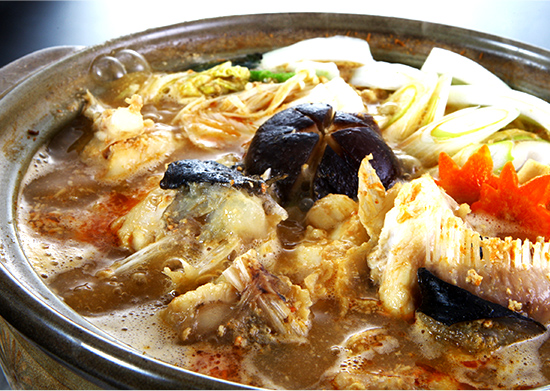 Other Marine Delights
Fugu may be the main attraction in Shimonoseki, but don't let it overshadow the other wonderful seafood you can enjoy here.
The city also ranks number one in Japan in anglerfish landings, a fish prized for its liver, which is often called the foie gras of the sea. You also don't want to miss the creamy, vividly colored sea urchin, which comes served in small wooden boxes.
Tsunoshima and the areas along the Sea of Japan coast, where there are an abundance of fishing grounds, are known for swordtip squid, a soft and meaty sweet-tasting kind of squid usually eaten as sashimi.

Kawara Soba
If you want to try something local that doesn't come from the sea, then choose the kawara soba. This unique dish dates back to the 1870s, when Japan, still in the nascent phase of its modernism, was dealing with the last of the samurai revolts. Soldiers from the Satsuma Domain are said to have used hot kawara (baked clay roof tiles) to cook meat and vegetables in their camps, so drawing inspiration from this story, kawara soba was born.
This dish features green tea-infused buckwheat noodles typically topped with beef, egg, seaweed, grated daikon radish and lemon with dipping sauce on the side.
The Kawatana Onsen district is where kawara soba was first conceived, so you can try this dish when you visit the area for a dip in the hot springs, which have been attracting bathers for 800 years.

T o u r i s t S p o t s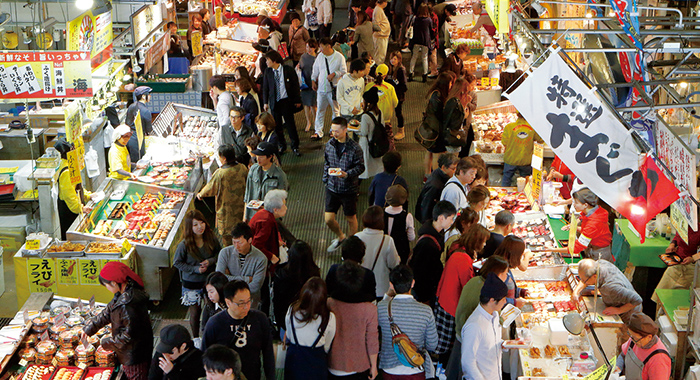 Karato Market
Shimonoseki is famous for fugu, but all kinds of locally-caught seafood can be found on the waterfront at the Karato Fish Market. The best time to visit is weekends and holidays during Iki-iki Bakangai when all the vendors' offerings can be purchased individually as sushi toppings. You can try all the different varieties of seafood for a low price. Eat on a wooden deck with an ocean view or on the rooftop lawn on nice days.
Karato Fish Market
Address | 5-50 Karato-cho, Shimonoseki
Tel | +81-83-231-0001
Open | 5:00~15:00 (Mondays-Saturdays); 8:00~15:00 (Sundays & holidays)
Iki-iki Bakangai | 10:00~15:00 (Fridays & Saturdays); 8:00~15:00 (Sundays & holidays)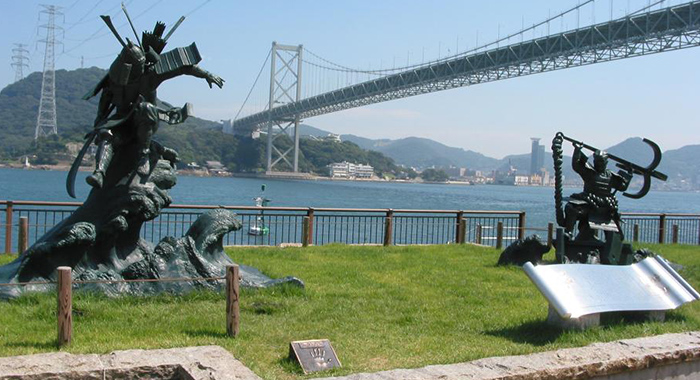 Mimosusogawa Park
One kilometer north of Karato Market is Mimosusogawa Park, located at the narrowest point on Kanmon Straits where the Kanmon Bridge connects Honshu and Kyushu.
The park features good views of the Kanmon Bridge and Kitakyushu City across the water. It was the site of a naval battle between a samurai clan and western navies in 1864. Five cannons stand at the site commemorating the battle and you can "fire" them (generating smoke and sound effects) for ¥100.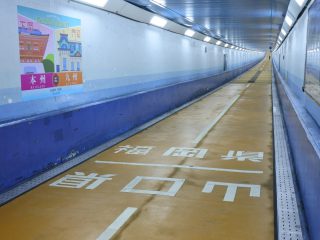 Kanmon Pedestrian Tunnel
If you'd like to be under the sea, then all you have to do is walk! You can walk the 780 m undersea pedestrian tunnel that connects the prefectures of Yamaguchi and Fukuoka. Snapping a photo along the dotted line denoting the border is a popular pastime.
Open year-round, the tunnel takes about 15 minutes to walk end to end. You can also take a bicycle or motor scooter with you as long as you push it.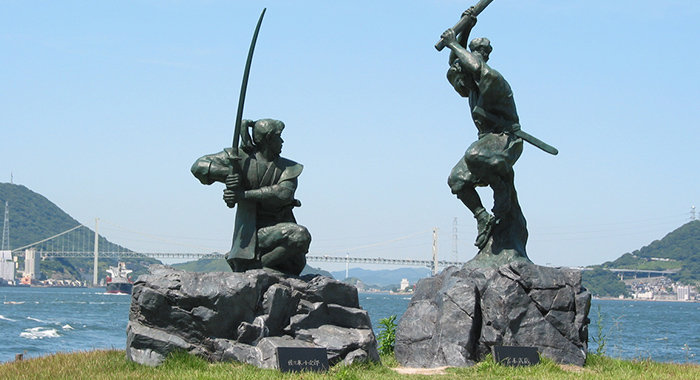 Ganryujima Island
Japanese history buffs (and maybe even some video game enthusiasts) may know of Ganryujima as the site of the duel between the legendary swordsman and author of The Book of Five Rings Miyamoto Musashi and Sasaki Kojiro over 400 years ago. Visitors can take a 10-minute ferry ride from either Shimonoseki or Mojiko to see a statue depicting this epic duel. (The island is officially known as Funashima.)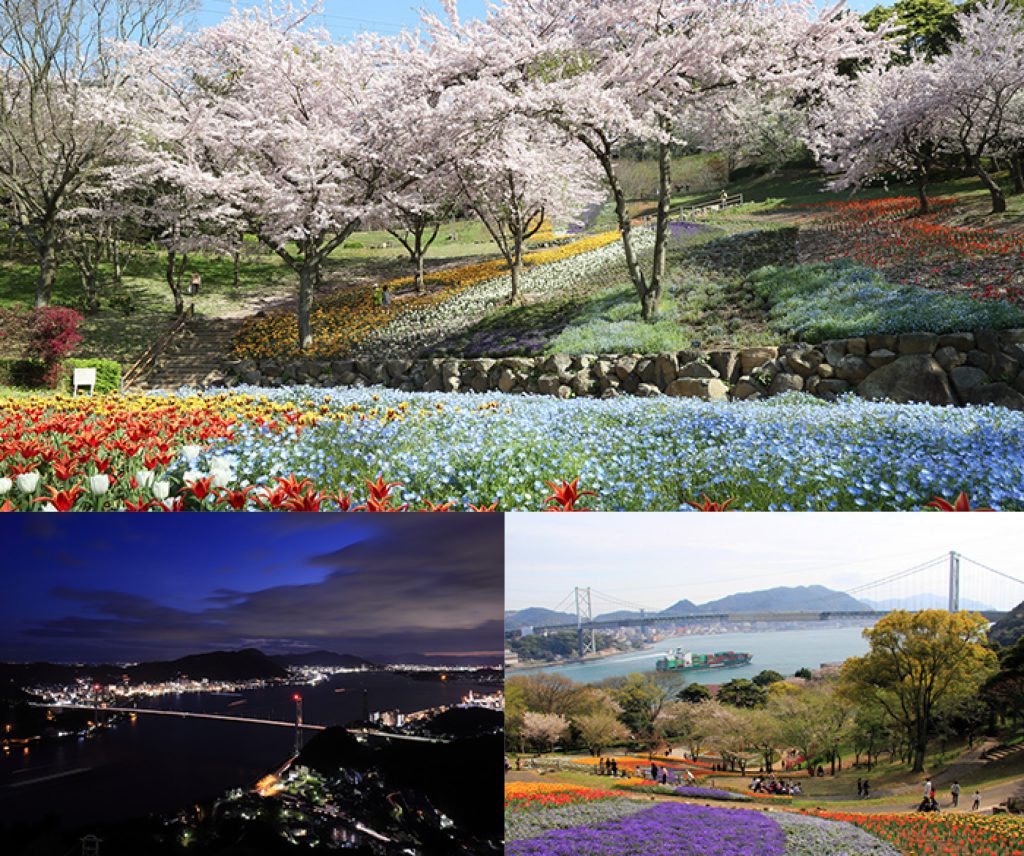 Hinoyama Park
An even more spectacular view of the straits and the city below can be found from the peak of Mount Hinoyama. A 10-minute walk north from Mimosusogawa Park up a small hill leads to the ropeway station in Hinoyama Park, where you can ride a cable car to the 268m peak. The peak is also accessible by the toll-free Hinoyama Parkway (a 10-minute drive) and a walking trail (60-minute walk).
From the peak, you enjoy a panoramic vista of the coast of Honshu, Kanmon Straits, the Seto Inland Sea and the Sea of Japan. The nightscape is spectacular, too.
The ropeway operates from spring to fall. The park is one of the city's most well-known spots for viewing cherry blossoms, so you might want to visit in late March or early April to enjoy the flowers. April is also when the tulips are in bloom.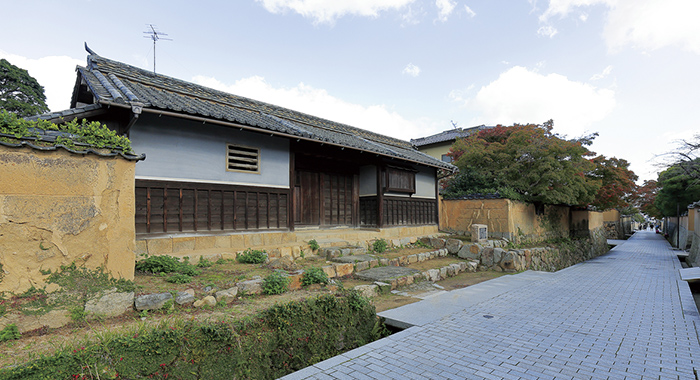 Chofu Castle Town
Chofu Castle Town is a must-see for Japanese history buffs, and the Chofu Tourist Center is a convenient place to start your visit.
The Center offers free parking, a gift shop on the first floor, and a restaurant serving fugu on the second floor. Bicycle rentals are also available.
Walking or cycling around the town will make you feel like you've stepped back into the Edo era (1603-1868), as you can enjoy historical samurai homes, gardens, earthen walls and Kōzan-ji Temple, a designated national treasure.
Chofu Tourist Center
Address | 2-1-15 Chofu-Samuraimachi, Shimonoseki Tel | +81-83-246-1120
Open | 9:00~18:00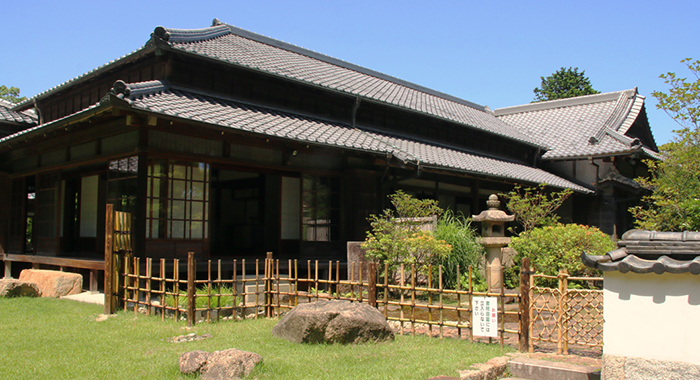 Chofu Mori Residence
The region's history is most exemplified by the Chofu Mori residence, once a family home and now a historical site open to visitors. It was built in 1903 by a descendant of the Mori samurai family and once played host to Emperor Meiji.
For ¥400, you can enjoy matcha and Japanese seasonal sweets. You are encouraged to explore the garden and the different rooms of the house. The scenery is especially beautiful in the fall.
Free kimono are available if you would like to get a photo of yourself in traditional Japanese garb.
Chofu Mori Residence
Address | 4-10 Chofu-Soshamachi, Shimonoseki
Tel | +81-83-245-8090
Open | 9:00~17:00 (last entry 16:30)
Closed | Year-end/New Year holiday (Dec 28th~Jan 4th) Admission | Adult ¥210; Junior high school student or below ¥100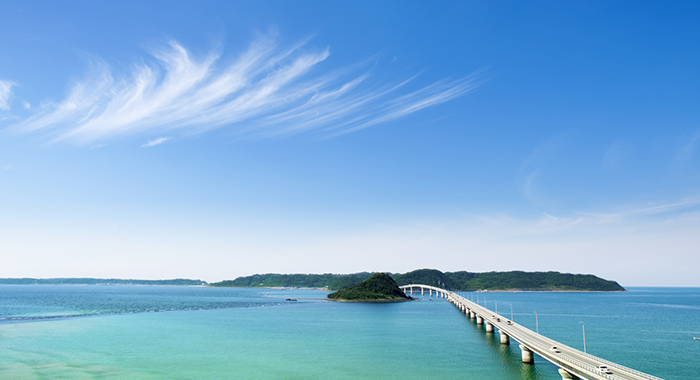 Tsunoshima Island
Tsunoshima is an island in the Sea of Japan connected to the mainland by the 1,780m long Tsunoshima Ohashi, one of Japan's longest toll-free bridges, making for an enjoyable day trip from central Shimonoseki or Kitakyushu.
During the summer months, you can enjoy two beautiful white sand beaches, the Tsunoshima Ohama beach resort and the Cobalt Blue Beach. Rental bicycles are another great way to leisurely enjoy the island's sights.
On the way to Tsunoshima, you will pass through the Toyoura district, where you can stop and enjoy the soft, soothing waters of Kawatana Onsen.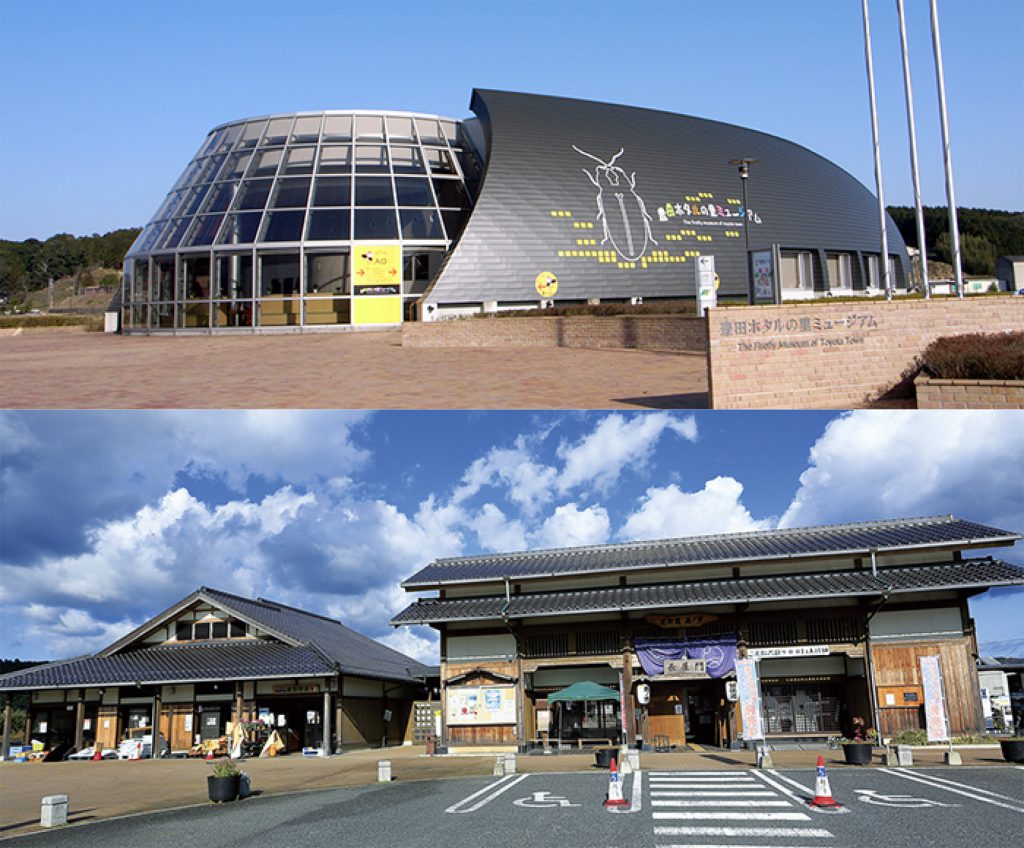 Toyota: Town of Fireflies and Hot Springs
The Firefly Museum of Toyota Town is located near the banks of the Koya River. The museum has extended hours in June, when fireflies are most visible, closing at 20:00. You can also take an evening boat tour on the river to see the fireflies up close.
If your preferred mode of relaxation is a dip in a hot spring, the waters of Hotaru no Yu at the Hotaru Kaido Nishinoichi Roadside Station will leave your skin feeling soft and supple. There is also an open-air bath if you would like to enjoy the hot water with the wind in your hair.
Firefly Museum of Toyota Town
Address | 50-3 Oaza Nakamura, Toyota-cho, Shimonoseki
Tel | +81-83-767-0350
Open | 9:00~17:00 (last entry 16:30)
Closed | Mondays (or the following day if Monday is a holiday); Year-end/New Year holiday
Admission | Adult ¥200; College student ¥100; Free for high school student or below/70 years old or above
Hotaru no Yu (Hotaru Kaido Nishinoichi Roadside Station)
Address | 876-4 Oaza Nakamura, Toyota-cho, Shimonoseki
Tel | +81-83-767-0241
Open | 10:00~21:00 (last entry 20:00)
Hot spring fee | Adult (including junior high school student or above) ¥670; 6~12 years old ¥310; 3~5 years old ¥50 *Wheelchair accessible shower available

Festivals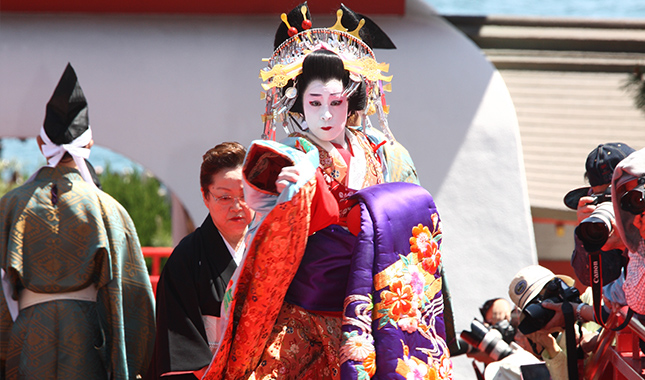 Shimonoseki Straits Festival
This festival is held from May 2nd to May 4th every year and reenacts various historical events which took place in the Kanmon Strait.
In Sentei (former emperor) Festival on May 3rd, people recall Emperor Antoku and Taira Family who died by drowning at "Battle of Dannoura" around 830 years ago. You can see the Parade of court ladies dressed in gorgeous costumes and the final destination of the parade is Akama Shrine where Emperor Antoku is enshrined.
In Genpei Festival, there is the sea parade of 80 ships depicting the final battle in the War between the Genji an Heike clans.
Shimonoseki is filled with a historical atmosphere during the festival as there are many other events taking place, so please come and enjoy Japanese history.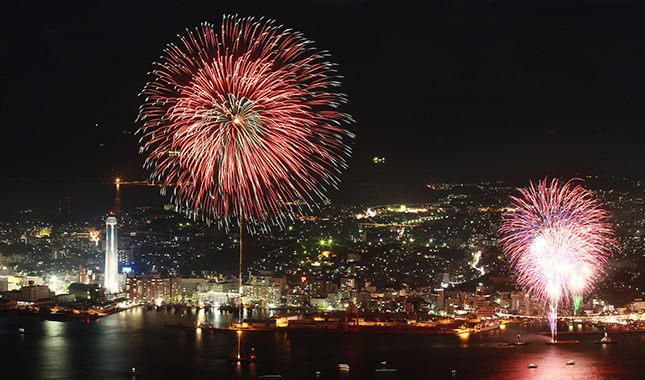 Kanmon Straits Fireworks Festival
First held in 1988 as part of the Asian Port Festival Kanmon, the Kanmon Straits Fireworks Festival now attracts around 1.5 million visitors, making it the second largest fireworks festival in Japan in terms of crowd size.
What makes the festival special are the 15,000 fireworks launched from both sides of the straits. Whether you are in Moji or Shimonoseki, you can enjoy this dazzling spectacle as it lights up the Kanmon Bridge.
There is also live music and a plethora of food stalls. Shutterbugs will not want to miss the annual photo competition.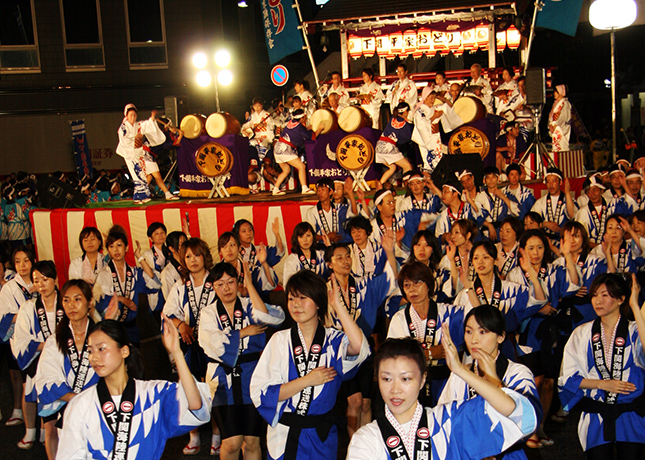 Shimonoseki Bakan Festival
This is the summer festival that all Shimonoseki citizens participate in. Many stalls open in the main venue of Kaikyo Yume Square and the whole city becomes lively with singing and dancing.
"Heike Odori Dance" on the final day is so powerful with about 4,000 dancers participating. Everyone is welcome to participate, so come and join us and dance with the drums.

Getting to Shimonoseki
Shimonoseki is conveniently located a short distance from three different airports and is accessible by both the high-speed shinkansen and regular JR train lines.
If you are driving, take the Chugoku Expressway from points east, or the Kanmonkyo Toll Road and the Kyushu Expressway from Kitakyushu and points further south.
From Mojiko in Kitakyushu, you can take a ferry operated by Kanmon Kisen or you can even walk or push your bicycle or scooter through the undersea pedestrian tunnel.
To get around inside the city, use Sanden Kotsu's regular bus routes. To save time and money when visiting the major spots in Shimonoseki, you can purchase a one-day pass (adults ¥1000, children ¥500), but be advised it comes with fare zone restrictions.

Download Tourist Pamphlets